Time to complete: 30 mins
Academic Integrity Training
By the end of this course, you will be able to:
Explain what "Academic Integrity", "Academic Misconduct" and "Plagiarism" are.
Explain why plagiarism is a problem
List how plagiarism can be avoided
List the consequences of committing academic misconduct while studying with ECO-UNESCO
Understand plagiarism, learn techniques to avoid it and improve your research and writing skills!
This course is a useful introduction to academic integrity and how to avoid academic misconduct, such as plagiarism. It is mandatory for anyone completing a QQI course with ECO-UNESCO but is also great for anyone who wants to improve their research and writing skills. 
This course is included in all of ECO-UNESCO's QQI Level 1-4 courses! If you are currently enrolled in one of ECO-UNESCO's QQI courses, please contact your facilitator who will register you for this Academic Integrity Training course, or email sarah.austin@ecounesco.ie
ECO-UNESCO's Academic Integrity Training is for anyone interested in improving their research and writing skills!
If you are taking this course alongside one of ECO-UNESCO's QQI courses, this course is designed for people taking QQI courses at levels 1 to 4. If you're taking a course at QQI level 5 or above, check out our other Academic Integrity Training course here!
About ECO-UNESCO's ECO-Academy
We are Ireland's Environmental Education and Youth Organisation that works to conserve the environment and empower young people. Our mission is to protect the natural environment and empower young people by developing their knowledge, skills, and confidence that channels their passion into positive and creative actions that help create a sustainable planet. ECO-Academy is our online learning platform where young people can learn about the environment and sustainable development, and discover how they can take action for a sustainable future!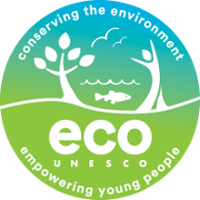 Ready to learn about Academic Integrity? Click "Take this Course" above, or click on the first lesson, "Understanding Academic Integrity", in the Course Contents below, and let's get started!